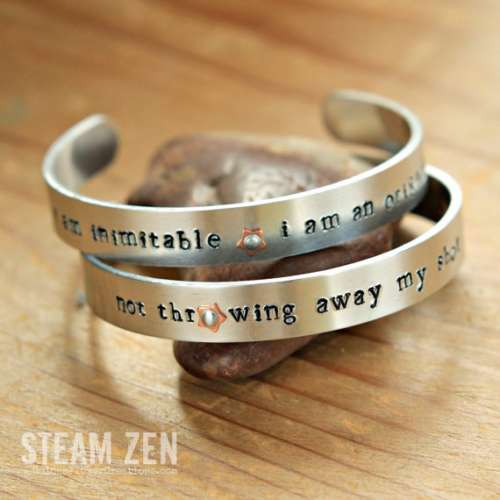 $21.00
Another great piece to gift your Hamilfan with!
Fall in love with this piece. It is so cute and unique, and have a distinct character that makes it quite adorable. The cuff bracelets feature the popular words "Not throwing my shot" and "I am inimitable, I am an Original" from the famous Hamilton musical. What makes it unique is the Copper Star accent riveted in place and positioned creatively to make it a part of its unique design.
Each cuff bracelet features:
1/2″ x 6″ Aluminum cuff bracelet
Copper Star accent riveted in place
A great gift like no other!
***Please Note***
This item have been stamped by hand and letters are stamped individually which may show slight differences in spacing, alignment and placing. The item you will receive will not be exactly as pictured in this listing. No item will ever be alike but will be as unique! If you have any questions on these items, please let me know. Thank you!
Ready to ship.
*** Aluminum is valued for its versatility. It also has the advantage of being nickel-free, super light weight. And unlike sterling silver, Aluminum doesn't tarnish.
*** Care: Use a jewelry polishing cloth, then wash with hand soap and water after polishing. If it has a brushed finish, polish it lightly with fine steel wool.