My Stick Family – Personalized Custom Cuff Bracelet – Hand stamped Jewelry – All Occasion Gift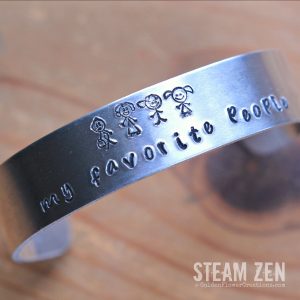 $28.00
This cuff bracelet features custom hand stamped stick family. It can be personalized to feature your own stick family and your own words or choose from pre-selected words available.
Got dogs and cats? They can be included too!
The perfect gift for your mom, your wife, husband, grandmother, aunt or even for yourself.
Bracelet features:
1. Aluminum cuff 5/8″ by 6″ in length and is flexible enough to adjust to your own wrist.
2. Hand stamped with stick family featuring Dad, Mom, sister, brother, cat and dog.
3. Hand stamped with a short quote or word/s.
4. Unisex
Available words:
They hold the key to my heart
Where my heart belongs
My favorite people
Your last name + the word family
My family
Please let me know in the Note which you prefer, how many members in your family or send me a convo if you have any questions regarding customization.
If you prefer the finished product listed. It is ready to ship.
***Please Note***
This item have been stamped by hand and letters are stamped individually which may show slight differences in spacing, alignment and placing. The item you will receive will not be exactly as pictured in this listing. No item will ever be alike but will be as unique! If you have any questions on these items, please let me know. Thank you!