Explorer – No Fixed Plans Personalized Hand-stamped Traveler Necklace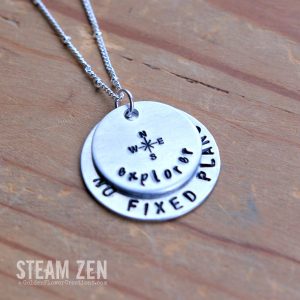 $20.00
Another perfect gift for the traveler in your life or yourself! A great going away present or "something to remember me" by gift. Also a great reminder of your love for travel!
This necklace features:
1. 1″ round thick Aluminum disc with the word "Explorer"
2. 1 1/4″ Aluminum Washer with the word "No Fixed Plans"
3. 18″ Silver plated beaded chain
4. Hand-stamped Compass design as focal image
This necklace can be customized.
Round disc can contain your first name or title: Traveler, Travel Blogger, Wanderer etc.
Washer can contain sayings or quotes or your preferred word like:
Not all who wander are lost
Wandering but not lost
World is my Oyster
Traveled (number of countries) and counting
Visited (Asia, Middle East, USA etc)
Please let me know in the Note which you prefer or send me a convo if you have any questions regarding customization.
If you prefer the finished product listed. It is ready to ship.
***Please Note***
This item have been stamped by hand and letters are stamped individually which may show slight differences in spacing, alignment and placing. The item you will receive will not be exactly as pictured in this listing. No item will ever be alike but will be as unique! If you have any questions on these items, please let me know. Thank you!