Ralph Emerson Friendship – Karma Wrap Bracelet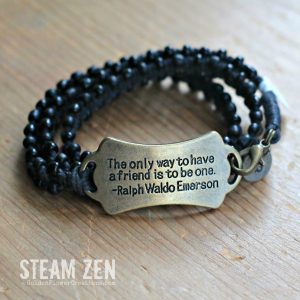 $30.00
Update: This design debuted on TV. Thanks to a client who wore it during her TV guest!
This bracelet features the famous quote of Ralph Waldo Emerson's "The only way to have a friend is to be one".
** Each bracelet in this Karma series wraps around 3 times with each Toho glass seed beads painstakingly weaved in place using Chinese knot technique to achieve the bracelets's distinct design.
Style: Unisex / Steampunk-inspired
Size: 8-8.5 in.
Ready to ship.
Fit Guide:
This bracelet is 22 inches long from end to end. To make sure it fits you, get a measuring tape and wrap it around your wrist. Not tightly. If there's approximately 1 inch left at the end of the 22 inch marker, then this bracelet will fit you just fine.