Supernatural Angel Castiel "My People Skills Are Rusty" and Famous Quotes Necklace – Supernatural Fandom Necklace – Angel Cas Fan Gift –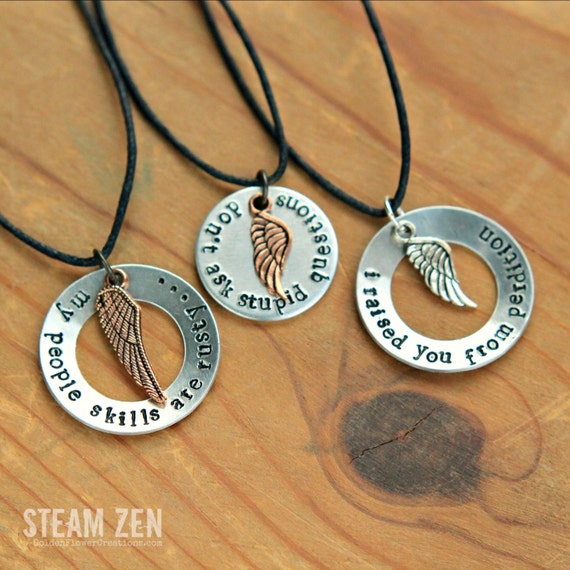 $16.00 +
The perfect gift for Team Castiel Fan!
We're a big fan of Supernatural and these necklaces are a great tribute to Cas and his funny, unforgettable lines in the popular fantasy TV series, Supernatural.
The three necklaces features:
1. Thick 1″ Aluminum disc with hand stamped words "Don't ask stupid questions" and medium-sized high-polished copper angel wing charm.
2. 1 1/4″ Aluminum token with hand stamped words "I raised you from perdition" and medium-sized antiqued silver tone angel wing charm.
3. 1 1/4″ Aluminum token with hand stamped words "My people skills are rusty" and large-sized antiqued brass angel wing charm.
4. They hang on an 18″ waxed cotton cord with 2″ extender.
Go team Cas!
***Please Note***
This item have been stamped by hand and letters are stamped individually which may show slight differences in spacing, alignment and placing. The item you will receive will not be exactly as pictured in this listing. No item will ever be alike but will be as unique! If you have any questions on these items, please let me know. Thank you!
Ready to ship.