Where My Heart Is – GPS and Latitude Longitude Coordinates Personalized Cuff Bracelet – Customized Jewelry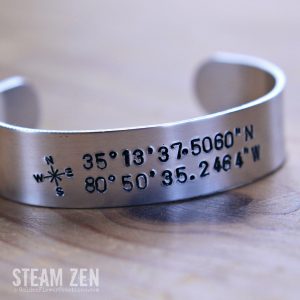 $32.00
A favorite piece. This cuff bracelet features hand stamped GPS and Latitude Longitude coordinates of your favorite place with the image of the compass as a nice touch. This can be personalized to a place or location that means a lot to you, or even one that's in your top bucket list.
What makes this cuff unique on its own is the hand stamped words "Where my heart (symbol) is" creatively placed on both ends of the bracelet.
Make a powerful statement piece with this unique cuff.
Bracelet features:
1. Aluminum cuff 5/8″ by 6″ in length and is flexible enough to adjust to your own wrist.
2. Hand stamped with GPS and Latitude Longitude Coordinates of your own
3. Hand stamped with a the image of a compass
4. Unisex
**The featured bracelet have the GPS location of Charlotte, NC and is ready to ship.
***If you can't figure out the coordinates of the location of your choice, please send me a convo and I'll help you figure it out.
***Please Note***
This item have been stamped by hand and letters are stamped individually which may show slight differences in spacing, alignment and placing. The item you will receive will not be exactly as pictured in this listing. No item will ever be alike but will be as unique! If you have any questions on these items, please let me know. Thank you!