Time Travel – Wibbly Wobbly Timey Wimey-Dr. Who Quote SciFi Geek Hand Stamped Necklace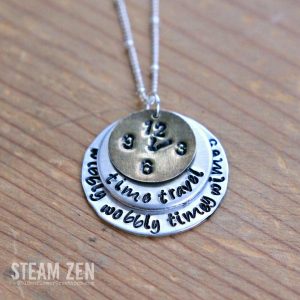 $20.00
For the true fan of Dr. Who, this will be the perfect accessory! This bracelet features the popular phrase "wibbly wobbly timey wimey" and the appropriate words "Time Travel" with hand stamped clock as focal accent.
The necklace features 3 pendants:
1. 1″ round thick Aluminum disc with "Time Travel" hand stamped on it.
2. 1/2″ round thin Antiqued Brass disc with hand stamped clock.
3. 1 1/2″ Aluminum washer with hand stamped "Wibbly wobbly timey wimey".
***Please Note***
This item have been stamped by hand and letters are stamped individually which may show slight differences in spacing, alignment and placing. The item you will receive will not be exactly as pictured in this listing. No item will ever be alike but will be as unique! If you have any questions on these items, please let me know. Thank you!